Digital Wallets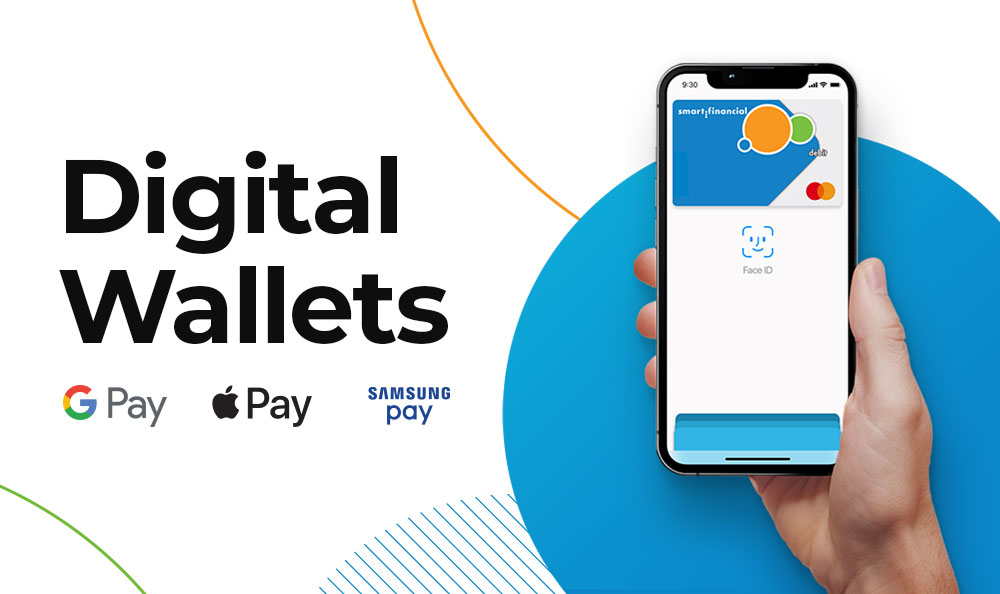 Your device. Your choice.
With a quick tap of your smartphone or smartwatch, you can use your Smart Financial Debit Mastercard® to pay at millions of store locations that accept mobile payments.
Use any of these trusted wallets with your Smart Financial Debit Mastercard®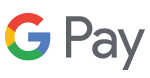 Fast mobile payments in-store and in-app with most Android™ devices. Download the Google Pay app from the Google Play™ Store.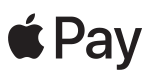 The easy, secure and private way to pay in-store, in-app and on the web. Open the Apple Wallet® app to add your card.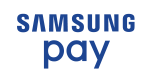 Pay almost anywhere you can swipe or tap your debit card. Compatible devices will come with Samsung Pay™ preloaded.
Digital Wallets FAQs
No. However, if your device is lost or stolen, we strongly recommend remotely disabling the card(s) from your digital wallet using a web browser. Visit your wallet product webpage for instructions. You may want to contact your mobile carrier to take recommended precautions that may help protect your phone's data. If you locate your device, you will need to add your card back to your digital wallet before making any purchases.
The first step will be to cancel your lost card and order a replacement card by calling Member Services at 713-850-1600 or email your request along with a copy of a valid ID. To cancel your card after business hours, please call Debit Card Services at 833-933-1681. Mailed cards typically take 7-10 business days to arrive. Update your digital wallet with your new debit card number once it is received.
In addition to always keeping your phone locked, make sure biometrics or PIN are enabled in your wallet app to prevent any unauthorized use of your wallet. Learn about safety, security, and privacy for your wallet at Google Pay, Apple Wallet and Samsung Pay.
Yes. You should receive a verification code from Card Assets when adding your Smart Financial credit card to your wallet. If you encounter issues adding your Mastercard, call the Card Services Center at 800-854-7642.
Yes. You may add your business debit card and business credit card to your wallet.
Smart Financial is not the provider of Digital Wallets. We are not responsible for any failure, errors, or delays caused by the Wallet or the inability to use the Wallet for any transaction. We are not responsible for the performance or non-performance of the Wallet provider. We reserve the right to terminate our participation with Digital Wallets at any time. The terms and agreement that govern your debit card do not change when you add your card to the digital wallet. Smart Financial does not charge additional fees for adding your Smart Financial debit card to the digital wallet. Digital Wallet Agreement.
*Tokenization is dependent on the merchant. Visit Google Pay, Apple Pay and Samsung Pay for more details.
Google Pay compatible devices include any NFC-enabled device running Android® OS 4.4 (KitKat) or higher. Google Pay is a trademark of Google LLC.
Apple Pay compatible devices include iPhone 6 and later in stores, apps, and websites in Safari; with Apple Watch in stores and apps; with iPad Pro, iPad Air 2, and iPad mini 3 and later in apps and websites; and with Mac in Safari with an Apple Pay enabled iPhone 6 or later or Apple Watch. For a list of compatible Apple Pay devices, see https://support.apple.com/km207105. Apple, the Apple logo, Apple Pay, Apple Watch, iPad, iPhone, Mac, Safari, and Touch ID are trademarks of Apple Inc., registered in the U.S. and other countries. iPad Pro is a trademark of Apple Inc.
Samsung Pay compatible devices include Galaxy® S8, Galaxy S8 +Galaxy® S7, Galaxy S7 Edge, Galaxy Note5, Galaxy Note7, Galaxy S6 Edge, Galaxy S6 Edge+, Galaxy S6, and Galaxy S6 Active. Samsung. Samsung Pay, Galaxy, and Samsung Knox are trademarks or registered trademarks of Samsung electronics co., Ltd. Other company and product names mentioned may be trademarks of their respective owners. Screen images are simulated; actual appearance may vary. Samsung Pay is available on select Samsung devices.
All other trademarks, service marks, and product names used here in are the property of their respective owners.
Certain terms, conditions and exclusions apply. Contact Smart Financial for complete Mastercard coverage terms and conditions or call 1-800-MASTERCARD for assistance. Applicable to U.S. card holders only.