Auto purchase or refinance. Either way, Smart saves you money.
Looking to purchase a new or used vehicle? For qualified applicants, our rates start at 2.24%*. Apply today and see what we can do for you!

Love the car you have? Refinance your current auto loan at our low rate to reduce your monthly payment and increase your cash flow. Restrictions apply. Ask your Lending Specialist about our loan protection products.
Looking for the lowest possible payment? Our variable rate loan may be just what you need. Contact our Smart Lending team to find out the best choice for your personal needs. View Rate Schedule.
Provided below are examples of monthly payments at 2.24%. Payment amounts will change as the rate changes during the term of the loan.**
| APR | Term | Amount | Monthly Payment |
| --- | --- | --- | --- |
| 2.24% | 84 months | $25,000 | $321.84 |
| 2.24% | 84 months | $30,000 | $386.21 |
| 2.24% | 84 months | $35,000 | $450.57 |
Ready to purchase an RV, Boat or Motorcycle?
We got you covered.
Learn More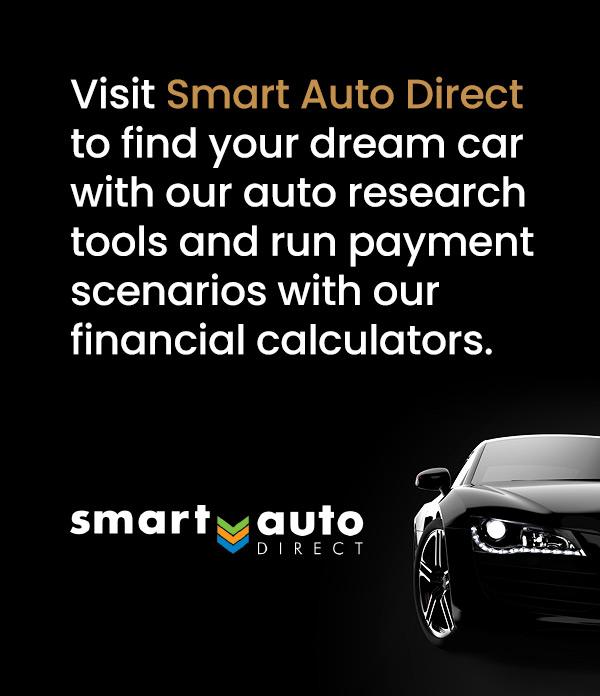 To apply, you will need a Social Security Number and must be 18 years of age or older.
*RATES BASED ON TERM AND CREDIT APPROVAL. YOUR RATE WILL BE DETERMINED AT THE TIME OF APPLICATION AND BASED ON CREDIT APPROVAL AND AMOUNT OF LOAN. 2.24% IS A FIXED RATE FOR 36-MONTHS AND INCLUSIVE OF ALL DISCOUNTS. (84-MONTH TERM AVAILABLE AT A VARIABLE RATE ONLY.) EXCLUDES EXISTING SMART FINANCIAL LOANS. NOT VALID WITH ANY OTHER OFFERS. OFFER SUBJECT TO CHANGE WITHOUT NOTICE.
**VARIABLE RATE: FOR THE FIRST 12 MONTHS, YOUR INTRODUCTORY APR WILL BE FIXED AT THE RATE DISCLOSED ABOVE. THEREAFTER, THE ANNUAL PERCENTAGE RATE WILL BE BASED ON THE WALL STREET JOURNAL PRIME RATE PLUS A MARGIN AND MAY INCREASE OR DECREASE DURING THE TERM OF THIS TRANSACTION. THE ANNUAL PERCENTAGE RATE WILL NOT INCREASE OR DECREASE MORE THAN 1 PERCENTAGE POINT PER ADJUSTMENT AND NEVER FALL BELOW THE INITIAL ANNUAL PERCENTAGE RATE OR EXCEED 17.99%. AN INCREASE OR DECREASE WILL TAKE EFFECT EVERY 12 MONTHS ON THE DATE OF THE INITIAL LOAN AND WILL BE ROUNDED OFF TO THE NEAREST 1/8TH%. ANY INCREASE WILL TAKE THE FORM OF HIGHER PAYMENTS. EXAMPLE: IF YOUR LOAN WAS $10,000 AT 6.00% FOR 84 MONTHS AND THE RATE INCREASED TO 7.00% AFTER THE FIRST YEAR, YOUR MONTHLY PAYMENT WOULD INCREASE BY $4.18. YOU WILL BE NOTIFIED IN WRITING 45 DAYS BEFORE THE DUE DATE OF A PAYMENT AT A NEW LEVEL. THIS NOTICE WILL CONTAIN INFORMATION ABOUT YOUR INTEREST RATES, PAYMENT AMOUNT, AND LOAN BALANCE.