Return to SmarterHabits
It's no secret that the number of scams has drastically increased over the past year. Unfortunately, Smart Financial and our members are currently being targeted. We want to ensure that your sensitive financial information remains protected. Awareness is the best protection!
Mortgage Postcard is not Smart Financial
Mysterious postcards are showing up in mailboxes all over the country and they've started targeting Smart Financial members. This "time-sensitive" matter has many of us scratching our heads and saying, "huh?" Well, guess what? These are 100% mortgage scams.
These postcards did NOT come from Smart Financial Credit Union — in fact, they did not originate from any financial institution. Recipients are urged to contact a toll-free number regarding a recently closed Smart Financial Credit Union mortgage.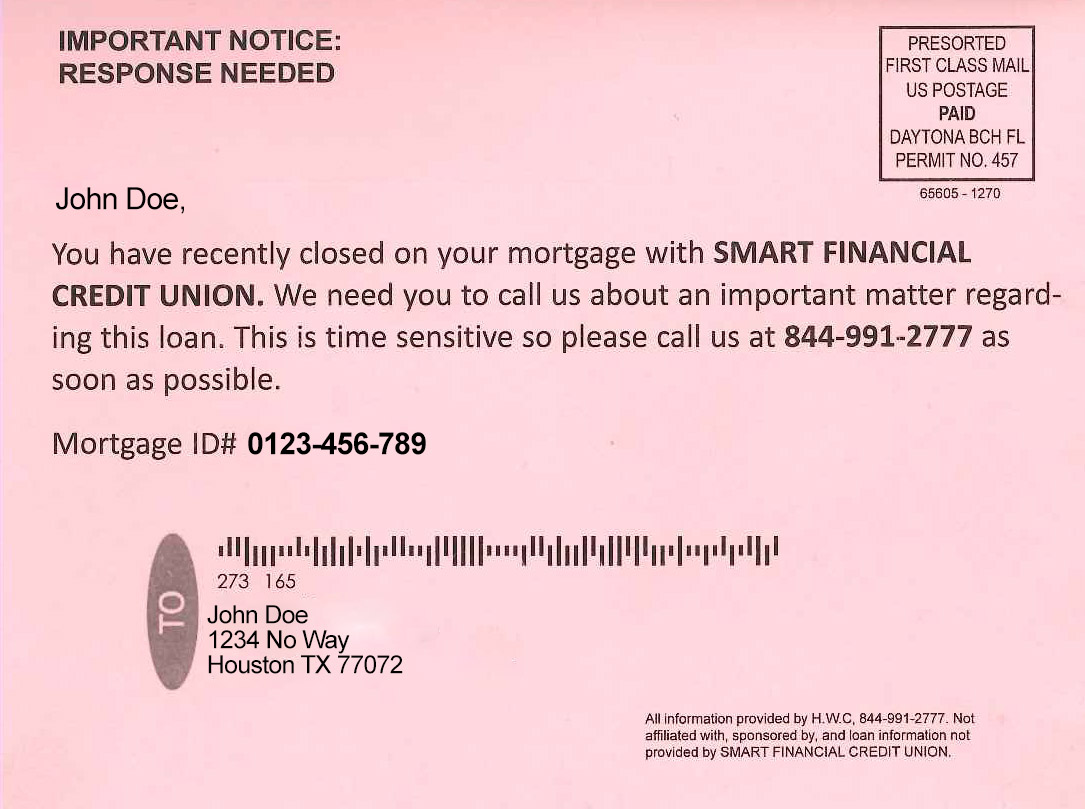 Where do these postcards come from and why am I being targeted?
Whether or not you have recently closed on a SFCU mortgage (congrats if you have!), companies from all over the world have the ability to purchase your information if it has been publicly listed. Your first giveaway should be that the Mortgage ID number provided is bogus. You can easily find this information on your lending documents, or with a quick phone call to your Smart Financial Mortgage Specialist.
Often times, scammers will pull what's called the "phantom help" maneuver, where they'll encourage you to reduce or even stop your mortgage payments while they work to lessen your costs, for a moderate fee of course. Unfortunately, by the time you realize you're being taken advantage of, the phantom helper is long gone.
If you look closely in the bottom right-hand corner of the examples we've provided, you'll see a "All information provided by H.W.C." and a "Not affiliated with Smart Financial" disclosure. There is little to no information about H.W.C. So far as we know, the company does not exist. Similar postcards will shown loandepot.com, Heritage Warranty Company, and Mortgage Protection Services in place of "H.W.C.". Our research shows that none of these are legitimate businesses.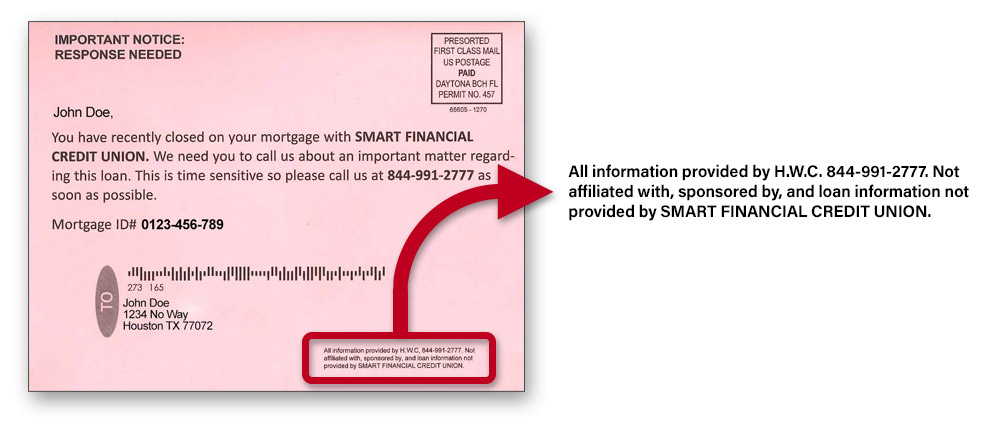 How do I protect myself from being a target?
It never feels good to be the target of a scam, but unfortunately it happens to us all. Should one of these end up in your mailbox, recycle it. Do not call the number. Do not play their games. Toss it and forget it. Remember, Smart Financial Credit Union will not send you notifications like this. If you are ever uncertain, contact us right away at 713-850-1600.
Mailed checks make it easier for a thief to steal your money!
The Problem
Checks mailed from personal mailboxes and post offices are being intercepted, altered and forged more than ever before.
The Solution
Use secure online payment options instead. Use Bill Pay in online banking or pay bills via vendor online payment portals.