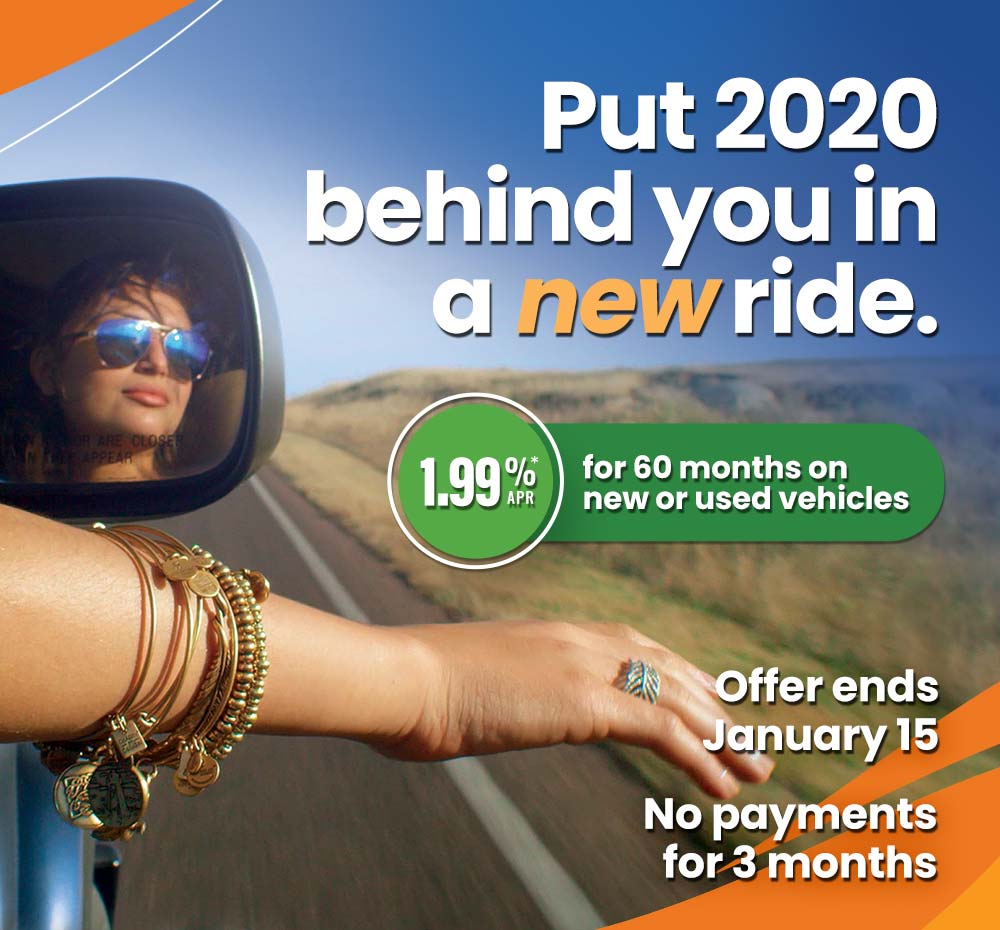 Don't miss out on the best deal we've ever offered on new and used vehicles.
For a limited time, we are offering members the historically low rate of 1.99%* APR with no payments for 3 months on new and used vehicles. With dealerships overstocked with 2020 models, now is the time to act if you are looking to buy new. If you prefer to buy used, we got you covered! Enjoy fixed rates starting at 1.99%* APR up to 60 months, and variable rates starting at 1.99%* APR up to 84 months, for qualified applicants.* Combine our low rate with a manufacturer rebate, and you may be looking at seriously low payments!
Love your car, but don't love your payments? Trade in your auto loan for a better one at Smart Financial. If you don't want to buy, but want to lower your current loan payments, let us refinance your vehicle at our low rate of 1.99%* APR. Restrictions may apply.*
Don't be fooled by zero interest financing offers! Dealerships may boast 0% financing, but these deals typically come with a catch. Most dealerships allow you to choose either low interest financing or a manufacturer rebate, but not both. With us, you can take advantage of both a low rate and manufacturer rebate!
Looking for the lowest possible monthly payment? Our variable rate loan may be just what you need. Before making a commitment to a dealership, let our Lending team run your numbers. With the lowest rate we've ever offered, we may be able to offer lower monthly payments than a dealership. To find out, call us at 713-407-1755 or apply online with no commitment required.
Look at the below comparison charts to see how Smart Financial monthly payments at 1.99%* APR with a rebate are lower than zero interest financing at a dealership without a rebate.
with manufacturer rebate
60-month rate term
Apply Now!
with manufacturer rebate
84-month rate term
Apply Now!
without manufacturer rebate
60-month rate term
Please note that the above charts show possible payment scenarios using a $4,000 manufacturer rebate with our promotional rate and terms. Your monthly payments may be different and are dependent on a number of variables.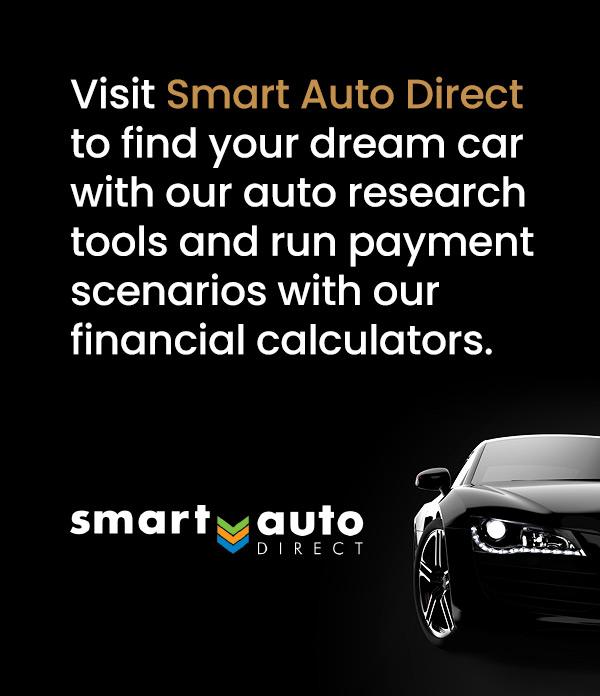 * RATES BASED ON TERM AND CREDIT APPROVAL. YOUR RATE WILL BE DETERMINED AT THE TIME OF APPLICATION AND BASED ON CREDIT APPROVAL AND AMOUNT OF LOAN. 1.99% IS A FIXED RATE FOR 60-MONTHS AND INCLUSIVE OF ALL DISCOUNTS. (84-MONTH TERM AVAILABLE AT A VARIABLE RATE ONLY.) RESTRICTIONS MAY APPLY. REFINANCE OFFER EXCLUDES EXISTING SMART FINANCIAL LOANS. NOT VALID WITH ANY OTHER OFFERS. OFFER GOOD FROM NOVEMBER 16, 2020 THROUGH JANUARY 31, 2021. SUBJECT TO CHANGE WITHOUT NOTICE. LOAN MUST BE BOOKED BY JANUARY 31, 2021 TO QUALIFY FOR THIS PROMOTION.
1VARIABLE RATE: FOR THE FIRST 12 MONTHS, YOUR INTRODUCTORY APR WILL BE FIXED AT THE RATE DISCLOSED ABOVE. THEREAFTER, THE ANNUAL PERCENTAGE RATE WILL BE BASED ON THE WALL STREET JOURNAL PRIME RATE PLUS A MARGIN AND MAY INCREASE OR DECREASE DURING THE TERM OF THIS TRANSACTION. THE ANNUAL PERCENTAGE RATE WILL NOT INCREASE OR DECREASE MORE THAN 1 PERCENTAGE POINT PER ADJUSTMENT AND NEVER FALL BELOW THE INITIAL ANNUAL PERCENTAGE RATE OR EXCEED 17.99%. AN INCREASE OR DECREASE WILL TAKE EFFECT EVERY 12 MONTHS ON THE DATE OF THE INITIAL LOAN AND WILL BE ROUNDED OFF TO THE NEAREST 1/8TH%. ANY INCREASE WILL TAKE THE FORM OF HIGHER PAYMENTS. EXAMPLE: IF YOUR LOAN WAS $10,000 AT 6.00% FOR 84 MONTHS AND THE RATE INCREASED TO 7.00% AFTER THE FIRST YEAR, YOUR MONTHLY PAYMENT WOULD INCREASE BY $4.18. YOU WILL BE NOTIFIED IN WRITING 45 DAYS BEFORE THE DUE DATE OF A PAYMENT AT A NEW LEVEL. THIS NOTICE WILL CONTAIN INFORMATION ABOUT YOUR INTEREST RATES, PAYMENT AMOUNT, AND LOAN BALANCE.
2USING $4,000 MANUFACTURER REBATE ON SFCU SCENARIOS. USING $0 DOWN PAYMENT, $0 TAXES/FEES AND NO TRADE-IN ALLOWANCE ON ALL SCENARIOS.